THE FINAL ONES: A Horror Movie Survivor Burlesque
08oct8:00 pm10:00 pmTHE FINAL ONES: A Horror Movie Survivor BurlesqueThe Woodshed Orlando, 6431 Milner Blvd, orlando, FL 32809
Event Details

Get ready for a spine-chilling night of seductive scares as we bring you THE FINAL ONES: A Horror Movie Survivor Burlesque!

Join us for THE FINAL ONES: A Horror Movie Survivor Burlesque on Sunday, October 8, 2023, at 8:00 PM Eastern Daylight Time. Prepare yourself for a night of thrilling entertainment at 6431 Milner Blvd, Orlando, FL 32809.Immerse yourself in an unforgettable experience as we bring your favorite horror movie survivors to life through the art of burlesque. Witness these iconic characters like never before, as they captivate you with their seductive moves and tantalizing performances. From the gatekeeping queen Zuul to the fierce and resilient final Nostromo survivor Ripley, our talented performers will pay homage to the horror genre while adding their unique twist. Expect heart-pounding dance routines, mesmerizing costumes, and a night filled with surprises that will leave you on the edge of your seat.Whether you're a horror movie fanatic or simply looking for a thrilling night out, don't miss this one-of-a-kind event. Grab your friends, dress up in your favorite horror-inspired outfit, and get ready for an evening that will keep you entertained until the final curtain call.

THE FINAL ONES: A Horror Movie Survivor Burlesque is a must-see event for all horror enthusiasts and burlesque lovers alike. Mark your calendars and get your tickets now for a night you won't soon forget!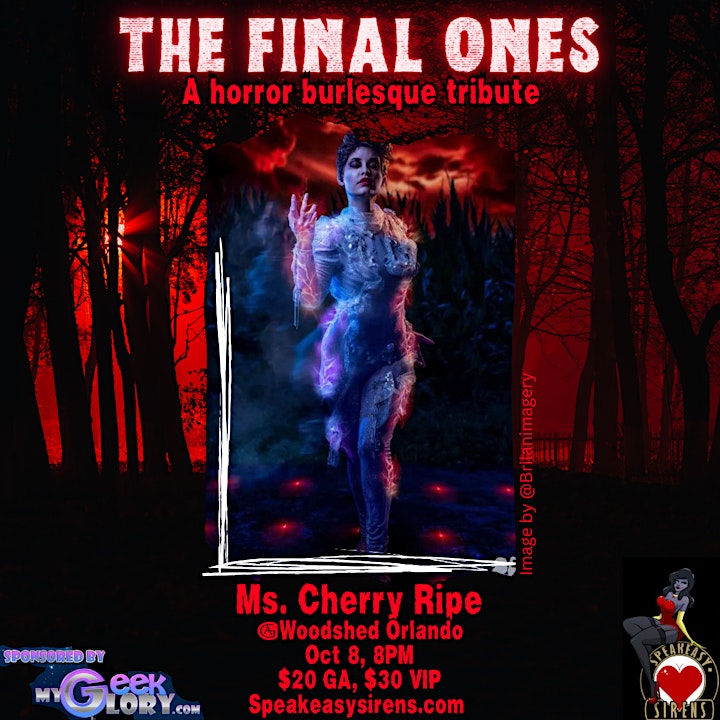 🌟 Ladies and gentlemen, ghouls and ghosts, get ready to be possessed by an electrifying presence like no other! 🌟
We are thrilled to announce the spine-tingling, the seductive, the supernatural sensation herself, the one and only… **Ms. Cherry Ripe as Zuul from Ghostbusters**!
👻🔥 Prepare to cross streams of desire and dance with the devilishly delightful Ms. Cherry Ripe as she takes the stage as the embodiment of Zuul, the Gatekeeper of Gozer, in our Final Girls horror burlesque show. This is a performance that will have you screaming for more as she conjures a night of unforgettable and terrifyingly tantalizing entertainment!
🪓🩸 Ms. Cherry Ripe has mesmerized audiences around the world with her bewitching moves and enchanting charm. Known for her killer curves and a flair for the dramatic, she'll summon the spirits and leave you spellbound with her seductive dance that will make your heart race faster than any proton pack can handle.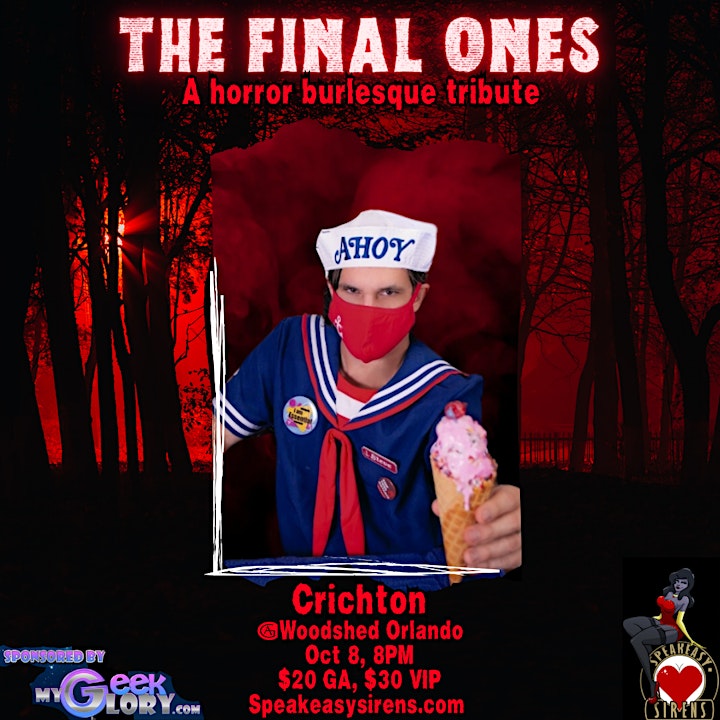 🌟 Ladies and gentlemen, prepare yourselves for a journey into the Upside Down, where fear meets fantasy in a tantalizing twist! 🌟
We are thrilled to introduce a performer like no other, the enigmatic and electrifying Crichton!
🔦🚲 Get ready to venture into the supernatural world of Hawkins, Indiana, as Crichton transforms into the charismatic Steve from the hit series Stranger Things, right here at our Final Ones Horror Burlesque Show. You're in for a hair-raising performance that will turn your world Upside Down!
🕯️🚀 Crichton is no stranger to the spotlight, and as Steve, he'll be serving up a dose of '80s nostalgia and horror-inspired seduction like you've never seen before. With a look that could kill Demogorgons and a charm that's hotter than a molten Demodog, this performance is sure to leave you spellbound.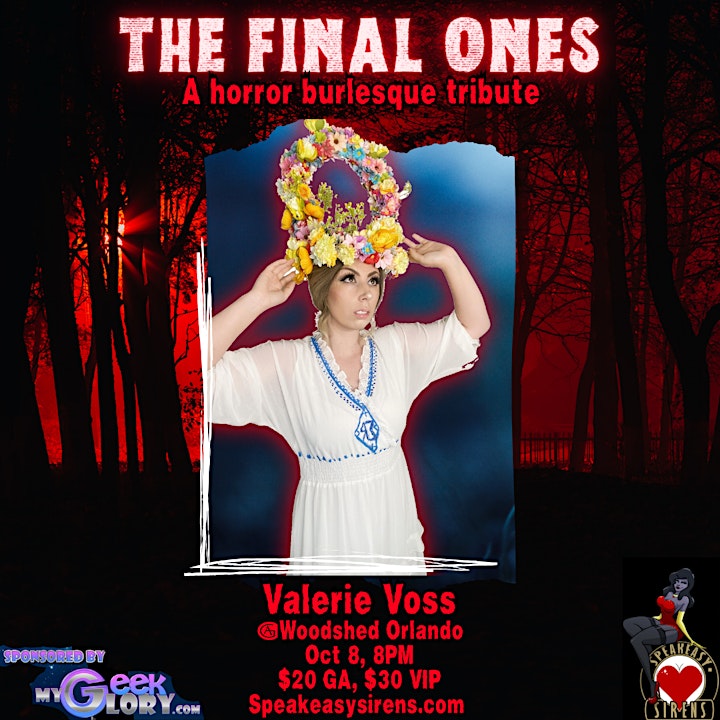 🌟 Ladies and gentlemen, prepare to be entranced by an extraordinary performer who will take you on a journey into the heart of eerie enchantment! 🌟
We are thrilled to introduce the mesmerizing and mystifying Valerie Voss!
🌼🌞 Get ready to step into the surreal world of Hårga as Valerie Voss embodies the ethereal Dani from the cinematic masterpiece Midsommar, right here at our Final Ones Horror Burlesque tribute show. Brace yourselves for a performance that will immerse you in a hypnotic, harrowing, and haunting experience!
🌿🌺 Valerie Voss has captivated audiences with her spellbinding stage presence and artistic prowess, and as Dani, she'll transport you to a place where daylight never ends, and nightmares come to life. Her performance is a bewitching fusion of beauty and terror that will leave you awestruck.
🔥🍃 From flower crowns to flowing dresses, Valerie Voss's portrayal of Dani is a breathtaking homage to the haunting allure of Midsommar. Prepare to be enchanted by her graceful movements as she weaves a narrative of transformation and empowerment through the art of burlesque.
🌟 Hold onto your seats, horror enthusiasts! 🌟
We've got spine-chilling news that's bound to leave you screaming for more! While you've already been treated to some electrifying performer announcements, we're thrilled to let you in on a little secret: there's a whole ghastly gallery of talent waiting to be unveiled at our upcoming event!
Stay tuned for a frightful feast of performers who will be joining us on stage in the roles of some of your favorite iconic Final Girls. We're talking about Mia from Evil Dead, Tree from Happy Death Day, Ripley from Alien, Clarice from Hannibal, and Grace from Ready or Not!
🪓💀 From chainsaw-wielding heroines to time-looping survivors, these ladies are gearing up to bring their unique brand of fear and ferocity to our stage. Each one will offer a tantalizing twist on their iconic characters, combining horror and burlesque in a way that's sure to thrill and chill you to the bone.
👁️‍🗨️ Keep your eyes peeled and your hearts racing, because these performer announcements will be coming your way soon. Get ready to witness a night of terror, temptation, and tantalization like no other, as we celebrate the strength and sensuality of our favorite Final Girls!
🎟️ Make sure you've got your tickets locked and loaded, because you won't want to miss a single spine-tingling moment of this unforgettable event. It's time to prepare for a night of horror, seduction, and surprises that will keep you on the edge of your seat!
Stay tuned, horror aficionados, because the countdown to the most electrifying and eerie night of the year has just begun. Get ready to meet our incredible cast of Final Ones, each with a performance that will leave you breathless and begging for more! 💀🎃👻🍿
more
Time

(Sunday) 8:00 pm - 10:00 pm
Location

The Woodshed Orlando

6431 Milner Blvd, orlando, FL 32809