The Amazing Art Expo FREE 3 Day Pop Culture Event: Dallas TX
15dec(dec 15)5:00 pm17(dec 17)6:00 pmThe Amazing Art Expo FREE 3 Day Pop Culture Event: Dallas TXCrowne Plaza Dallas Downtown, an IHG Hotel, 1015 Elm Street, Dallas, TX 75202
Event Details

3 Days Only!
Fri Dec 15th: 5-9 pm
Sat & Sun Dec 16-17th: 12-6 pm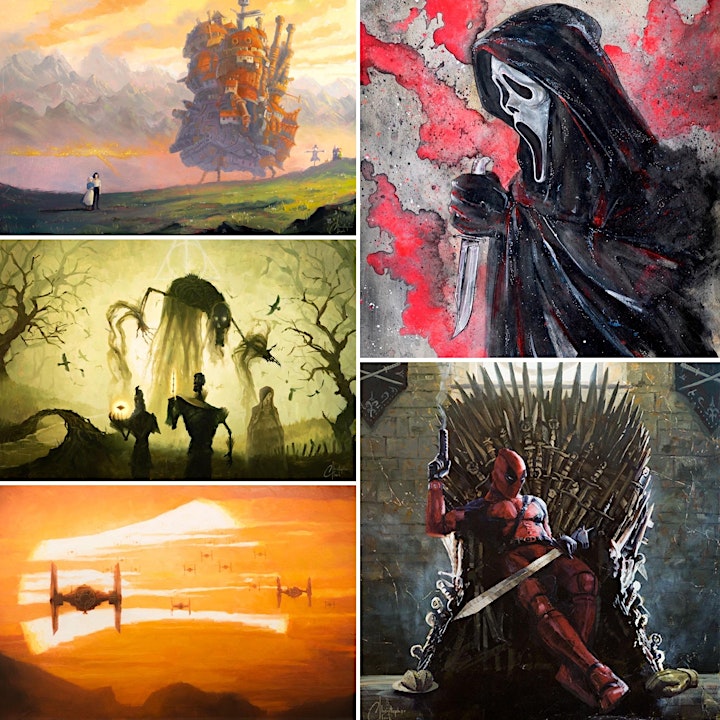 LOCATION: Crown Plaza Dallas Downtown: 1015 Elm St, Dallas, TX 75202
EVENT TIMES: Friday Dec 15th: 5-9 pm, Sat & Sunday 12-6 pm
FREE 8″x 10″ Print by Tagging someone on Instagram or SHARING this event on your Facebook Timeline: CLICK HERE for Facebook Event to Share.
If you decide to Cosplay, COSPLAYERS may qualify to receive a $45 Gift Certificate & the opportunity to be introduced to the audience with a particular theme song related to their costume/character by our DJ. Please see FAQ details below to qualify.
MEET NATIONALLY RECOGNIZED ARTISTS ADAM MICHAELS, CHRISTOPHER CLARK & SHANE SAURER who will be signing any of their purchased artwork and will add paint highlights/embellishments to any of their canvases purchased at the show – turning your canvas into a one of a kind original painting.
COOL MUSIC!
RSVP NOW – IT'S FREE! by clicking the "REGISTER" icon for your FREE Tickets – please only select tickets for adults 18+. Tickets good for all days & simply used to help us track attendance. If you have Facebook, please also click the "Going" Icon on our Facebook event page to help us out.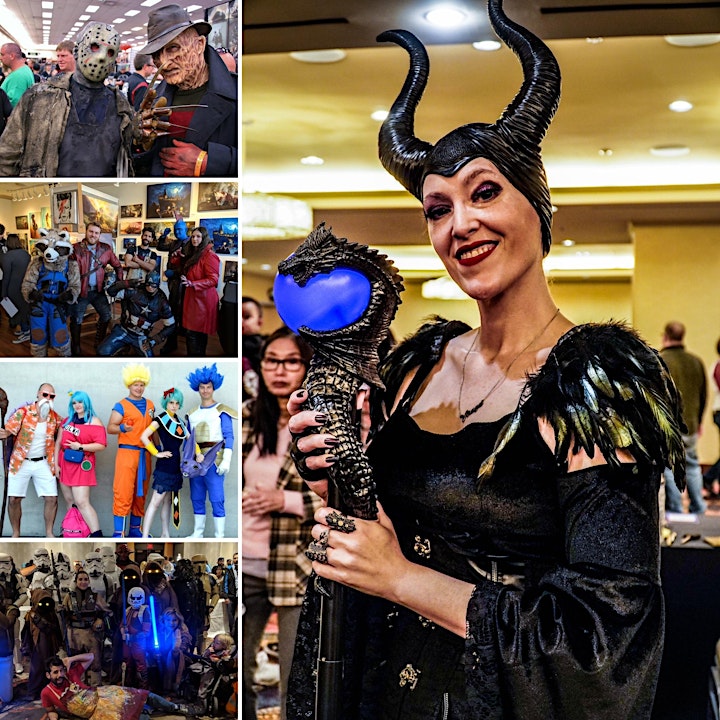 Save 25% Off All pre-purchased artwork now until Dec 14th on AmazingArtExpo.com & iamparodyart.com. Type AMAZINGSHOW in the discount code during checkout to redeem.
Featuring the Art of:
HORROR/MONSTER
ANIME
HARRY POTTER
ALICE IN WONDERLAND
STAR WARS
DISNEY
MARVEL
DC COMICS
LORD OF THE RINGS
PARODY
DRAGONS & FANTASY
& MANY MORE OF YOUR FAVORITE POP CULTURE THEMES.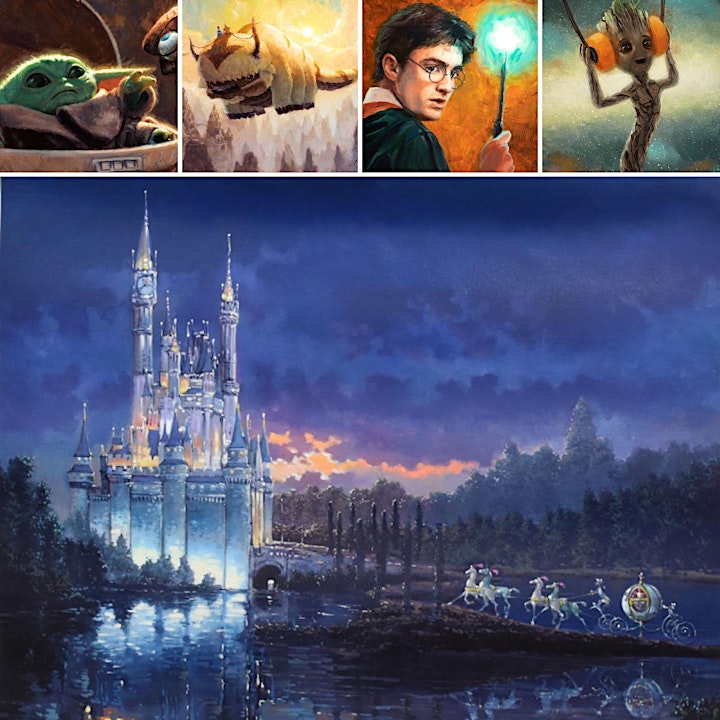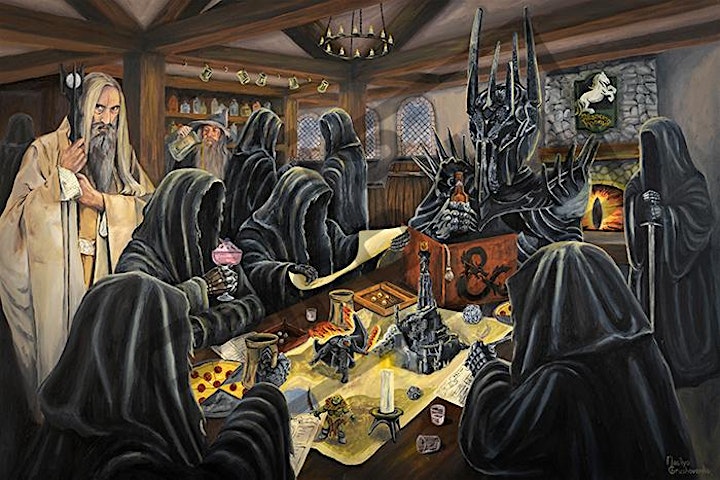 Cosplayers, princesses, princes, wizards, witches, superheroes and Jedi of all ages are welcome to attend. And Yes, it's free, so stop asking!
Kid & Stroller Friendly.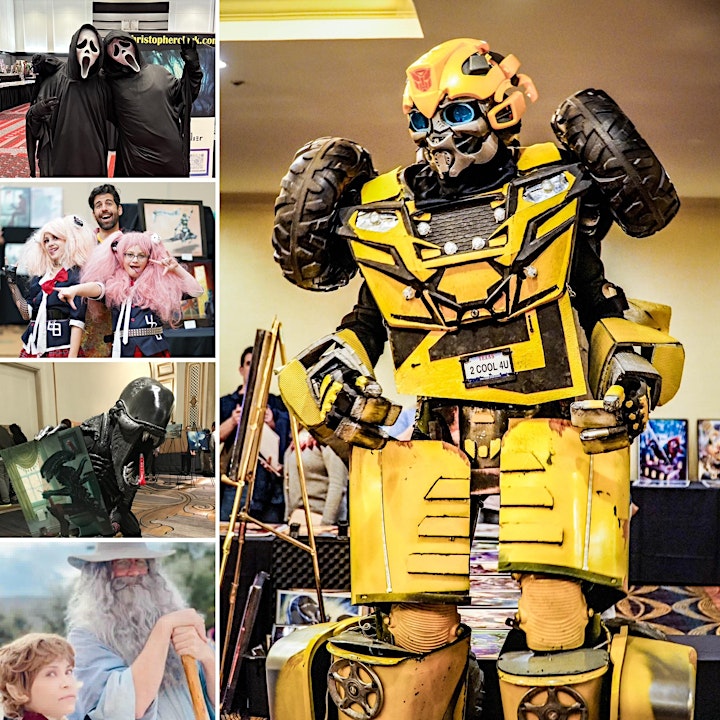 MEET LUCASFILM'S #1 SELLING ARTIST CHRISTOPHER CLARK (SEE IMAGE BELOW): Licensed Disney, Marvel & Lucasfilm's #1 Selling Artist, Christopher's artwork can be found at Disney Theme Parks, various galleries throughout the world and even in the home of George Lucas, as well as various famous actors and athletes. Known for his attention to detail in capturing the exact likeliness of character faces and motion, Christopher uses only oil paints (no digital work whatsoever). He has been the featured artist on multiple occasions with Star Wars Celebration, Epcot Center, Major League Baseball, Comic Cons in San Diego & New York. Christopher will be signing & embellishing all 3 days. CLICK HERE to Visit Christopher's Web page.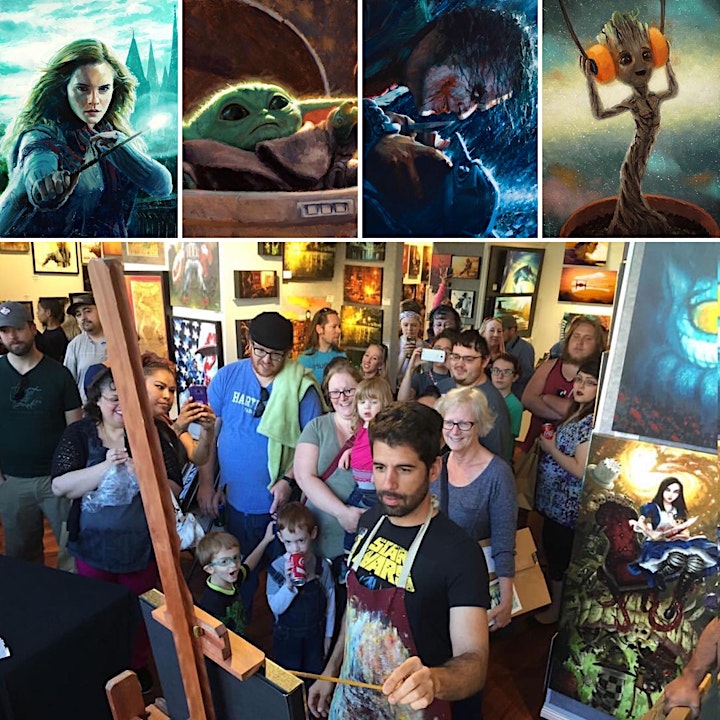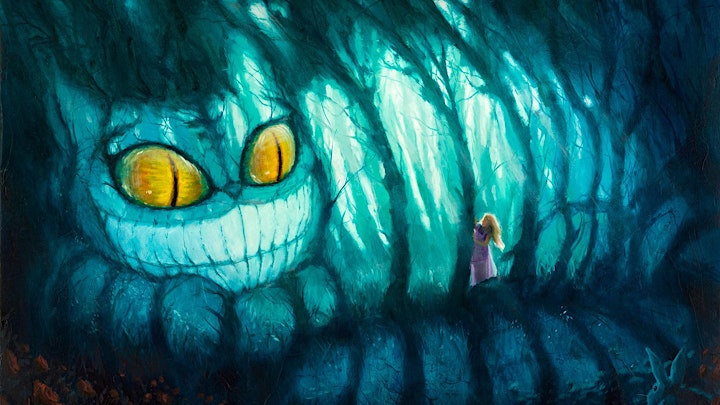 MEET NATIONALLY RECOGNIZED ARTIST ADAM MICHAELS (SEE IMAGE BELOW): a self taught traditional artist working primarily with ink and watercolor as well as other mixed medias such as acrylic paints, coffee and red wine. Adam travels and exhibits his art worldwide and his work can be found in distinguished galleries such as Chicago's Gallery F and Los Angeles's Gallery 1988. Adam has been licensed and recognized by franchises such as Ozark, Ghostbusters, Firefly and more as well created art and clothing lines for Ghost Adventures' Aaron Goodwin.
He creates fine original art as well as pop culture fueled pieces which have been labeled "nerd art you can hang in your living room". Bringing a modern, high end feel that is approachable by collectors and non-collectors alike and spanning all ages, Adam takes inspiration from both the light and dark of life as well as his love of a robust realm of pop culture including Disney, Star Wars, Marvel, DC, Harry Potter, Lord of the Rings, Harry Potter, Stranger Things, Mortal Kombat, Star Wars and all things horror.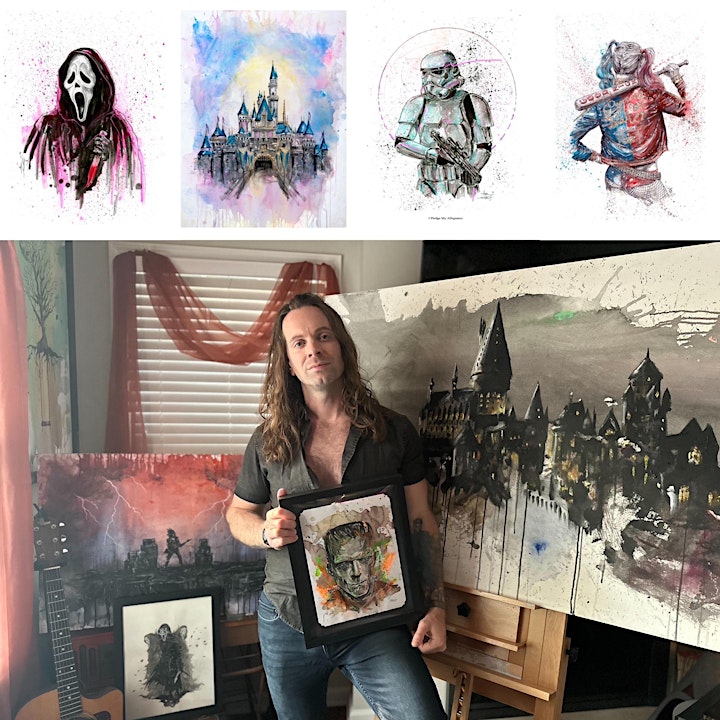 MEET SHANE SAUER who has quickly become America's premier Japanese sumi-e style ink painter. All of Shane's paintings are done traditionally with calligraphy brushes and black sumi-e ink. Recently Shane has been featured in many comic book and anime stores, catching the attention from a variety of voice actors, both American and Japanese, who quickly acquire Shane's art for their own enjoyment. In addition to his many journeys to various comic cons, Shane is also excited to join Amazing Art Expo's featured artists, allowing him to continue his passion in not only painting, but also meeting collectors and spreading his art in different homes throughout the world.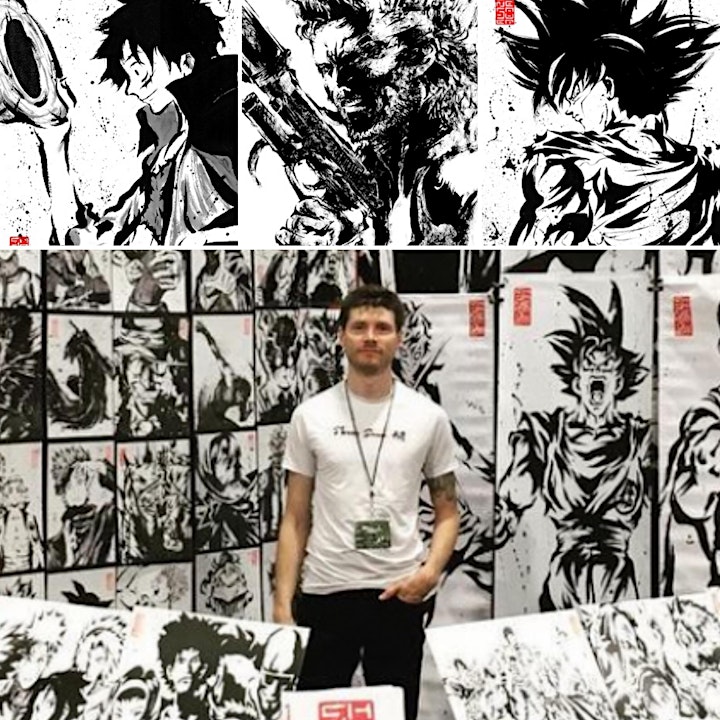 AND INTRODUCING THE COMEDIC PARODY ART OF BUCKET! ABOUT ARTIST "BUCKET" Despite being bred as a stormtrooper, Bucket refuses to identify as a "Clone" and prefers to be labeled a scoundrel painter who enjoys long walks on the beach and glutenous pastry products. Visit iamparodyart.com and CLICK HERE to watch a short video message from Bucket.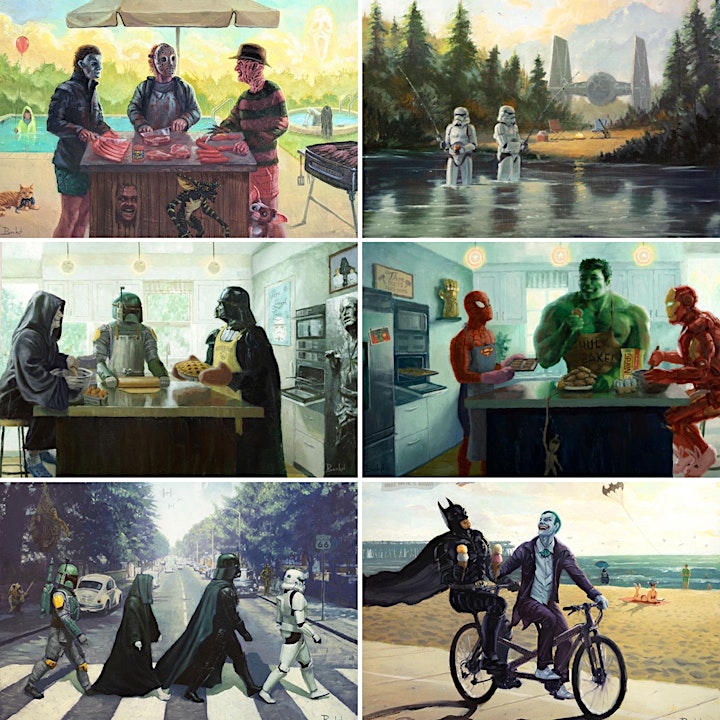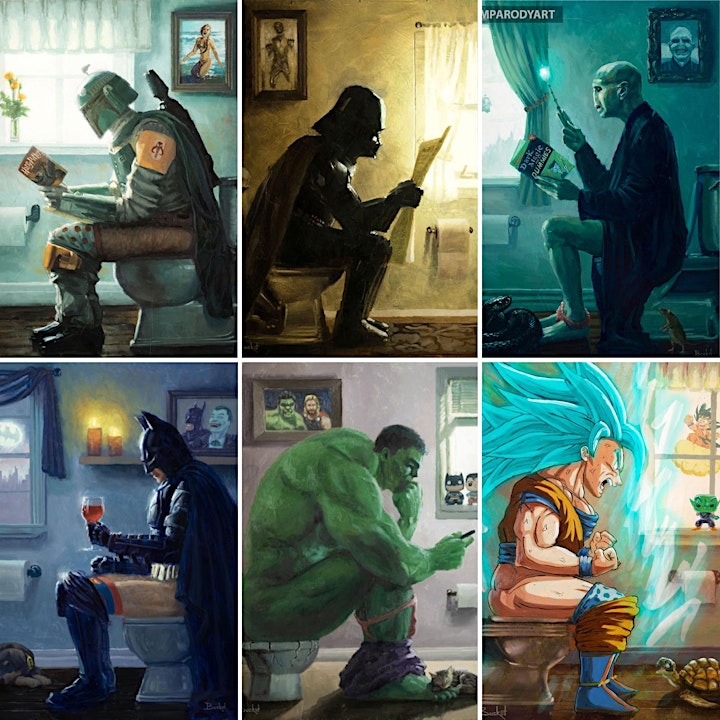 FAQ
HOW DO I GET MY FREE PRINT? Tag a friend on Instagram or SHARE the event on your Facebook timeline or Instagram pg by December 14th. When you check in at the event, simply use your phone to show us you shared the event & you will be given your choice of a free print. Limit 1 Free Print per individual who shared Event. Artists will not sign free prints. Click Here to share the event on Facebook.
WHAT WILL THE ARTISTS DO? The artists will be signing any of their artwork purchased at the show. For any canvases purchased, the artists will also add paint hand embellishments/highlights to the canvas, essentially turning it into its own, one of a kind original, at no additional charge. This is an added service that Disney artists typically charge $200 for but it's complimentary at the show as a means of the artist thanking you for supporting their art.
IS THIS EVENT COMPLETELY FREE? Yes, no purchase whatsoever is necessary. Please be aware of spammers trying to sell tickets and/or booth space, especially on Facebook.
ARE KIDS ALLOWED? This event is 100% Kid & Stroller Friendly!
ARE YOU ACCEPTING VENDORS OR ARTISTS? No, this event is exclusive to Amazing Art Expo Artists only. The venue also does not accept any food vendors.
HOW DO COSPLAYERS QUALIFY TO RECEIVE THE $45 GIFT CERTIFICATE? Monsters, princesses, princes, superheroes, Jedi, wizards, witches and even muggles of all ages are encouraged to attend and upon approval, may be introduced to the crowd with a particular theme song to their costume/character. Cosplayers who meet the following criteria listed below will receive a $45 gift certificate which are transferable but may only be redeemed during the 3 days of the event. Please read all the qualifications and guidelines listed below:
1.) AGE LIMITATIONS: All ages are encouraged to cosplay however, cosplayers must be over 18 years of age to qualify to receive the $45 gift certificate,
2.) COSTUMES MUST FIT OUR THEMES: Relevant Themes include: Anime, Disney, Star Wars, Marvel, DC, Harry Potter, Monsters, Horror Characters, Lord of the Rings, Game of Thrones, Dungeons & Dragons. Some outside themes may be accepted upon approval.
3.) COSTUMES MUST BE CREATIVE, UNIQUE & STAND OUT: Costumes should generate significant attention to guests who will typically want to approach you for a photograph. Fun dresses, Mickey ears, outfits or basic everyday clothing displaying a pop culture image, theme or text is not very engaging and therefore, does not qualify. Costumes must easily be recognizable, unique, tasteful and not be deemed offensive by Amazing Art Expo staff. This is a family event so we ask to please respect that sexual, racial epithets is not allowed. The barest minimum of body coverage would be that of a bikini. The judgement of "what costumes qualify" is left to the sole discretion of the Cosplay Director and Amazing Art Expo Staff. If you have any questions you should email us at john@amazingartexpo.com.
4.) WEAPONS: All operational shooting weapons and/or sharp objects are absolutely forbidden. Non-firing toy weapons are allowed. Any props which resemble a shooting weapon must have a visibly colored tip. Act responsibly and use caution when carrying, yielding, displaying large props. Any simulation of props, such as lightsaber battles, may be allowed if granted permission beforehand by an Amazing Art Expo crew member and if conducted in an open area free of bystanders.
5.) PHOTOS: Cosplayers should volunteer to pose for photos with guests at no charge. Please do so in an open area so you are not blocking aisles or product displays. You are welcome to ask any Amazing Art Expo employee suggestions for such areas.
6.) REQUIRED TIME TO BE PRESENT: Cosplayers must be present and interactive with guests at the event for a minimum of 3 hours to qualify for the $45 Gift Certificate.
If you have any questions regarding our guidelines, please email john@amazingartexpo.com
more
Time

15 (Friday) 5:00 pm - 17 (Sunday) 6:00 pm
Location

Crowne Plaza Dallas Downtown, an IHG Hotel

1015 Elm Street, Dallas, TX 75202