Super Smash Bros Qualifiers + Final Tournament: $500 CASH PRIZE
19mar3:00 pm6:00 pmSuper Smash Bros Qualifiers + Final Tournament: $500 CASH PRIZEBe Legend Gaming, 2630 Justin Road #Ste 106, Highland Village, TX 75077
Event Details

The SSBU Tournament is a 4-week series. The first 3 weeks are qualifiers for the final 4th week's $500 tournament.
Super Smash Bros Ultimate Series
4-week tournament
$15 Facility entry each week (for players and spectators)
Our round-robin qualifiers for February are set for the first 3 Sundays:
March 5th: 3pm – 6pm
March 12th: 3pm – 6pm
March 19th: 3pm – 6pm
The final double-elimination bracket for $500* is set for:
Format details:
Find your match through the bracket provided
Pair up with your opponent for the match of SSBU
In the qualifiers, each won match will equal 1 point towards qualifying.
Tournament Rule-set:
3 Stock
Time Limit: 7 minutes
Items: Off
Stage Selection: Anyone
Stage Hazard Toggle: Off
Final Smash Meter: Off
Spirits: Off
Damage Handicap: Off
First to: 1 Win
Launch Rate: 1.0x
Underdog Boost: Off
Score Display: Off
% Show Damage: Yes
Custom Balance: Off
Echo Fighters: Separate
Radar: Big
If time runs out, the winner is first determined by how many stocks remain, and then by the percentage after time is up.
If both stock and percentage are the same, or a game ends in both players losing their last stock at the same time, then a tiebreaker is played, which consists of a 1 stock and 3 minute match with the same characters and the same stage.
Note* The check will be mailed to the winner.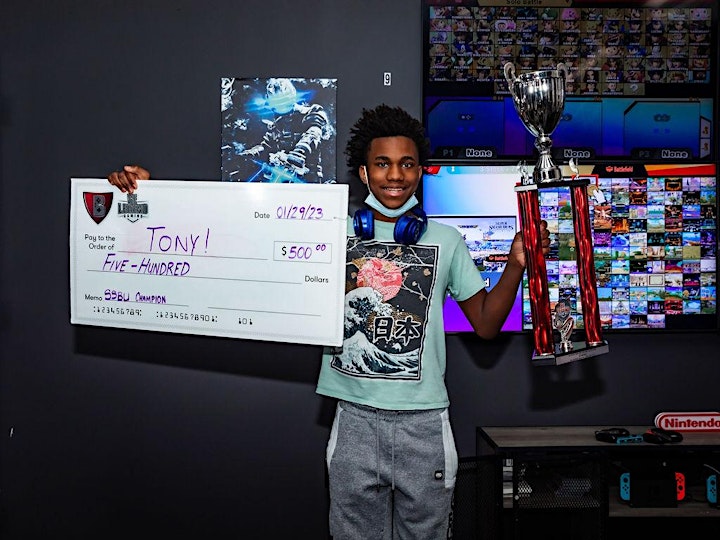 more
Time

(Sunday) 3:00 pm - 6:00 pm
Location

Be Legend Gaming

2630 Justin Road #Ste 106, Highland Village, TX 75077