SPANISH MARIE'S SUPER SMASH BREWS
05jan8:00 pm12:00 amSPANISH MARIE'S SUPER SMASH BREWSSpanish Marie Brewery, 14251 Southwest 120th Street #Suite 108, Miami, FL 33186
Event Details

Join us and the rest of the gaming community the 1st Thursday of every month for a fun and highly competitive Super Smash Bros Tournament!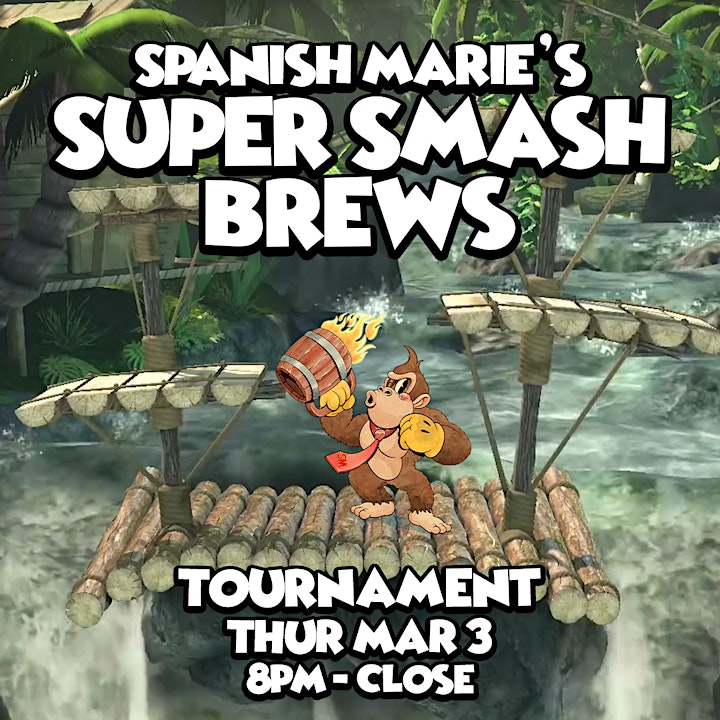 Welcome to the Spanish Marie's Super Smash Brews! The tournament takes place at Spanish Marie the 1st Thursday of every month from 8:00 p.m. to 12:00 a.m. Spanish Marie is located at 14251 SW 120th Ste, Suite 108, Miami FL 33186.
Have fun and compete with some of the best gamers in Kendall while exploring one-of-a-kind craft beers from Miami's Best Brewery of 2021.
IMPORTANT NOTE: Super Smash Brews admission is free. Vendors, Entertainers, and Guests, please use the assigned parking spaces around the complex. Do not park in the alley.
WANT TO BE A VENDOR OR ENTERTAINER?
If you are a local vendor that would like to participate in Super Smash Brews, please apply using our VENDOR APPLICATION or our ENTERTAINMENT APPLICATION
Thank you for your interest and we look forward to seeing you at Spanish Marie!
FREQUENTLY ASKED QUESTIONS:
Can I bring my dog or pet?
Well-behaved, leashed dogs are welcome .
Is it kid-friendly?
Yes, this is a family-friendly event and children of all ages are welcome .
Is the event FREE? Why should I register?
Yes, the event is free and open to the public. We encourage everyone to register online to help us track attendance for staffing purposes. By registering, you are also able to receive updates about the event, such as updated vendor lists and special offers and discounts. You may also receive future event invitations.
What does the event include?
By attending Spanish Marie's Super Smash Brews, you get to meet and engage with the local gaming community and compete for the 1st prize, which will vary month to month.
Please note, as this event continues to grow, so will the format including vendors and entertainment, please stay tuned, add our email address, and follow us on social media for the latest updates.
more
Time

(Thursday) 8:00 pm - 12:00 am
Location

Spanish Marie Brewery

14251 Southwest 120th Street #Suite 108, Miami, FL 33186