J1-Con: Animation & Gaming Expo 2022 [VENDORS]
04nov(nov 4)7:00 pm06(nov 6)7:00 pmJ1-Con: Animation & Gaming Expo 2022 [VENDORS]Showboat Hotel, 801 Boardwalk, Atlantic City, NJ 08401
Event Details

A celebration of all things pop culture! From animation, to comic books, cosplay, and live music!

WE ARE CELEBRATING OUR 10 YEAR ANNIVERSARY!! A CONVENTION MADE BY FANS!!!

Welcome to J1-Con (VENDORS) – The J1 Studios Convention celebrates animation, vendors, discussion panels, gaming, live music, cosplay, celebrity guests, a podcasting summit, cosplay pro wrestling, and a cosplay prom, in Atlantic City, at the Showboat Hotel! The CONVENTION is November 5th & 6th, while the (ALL AGES) Cosplay Prom is November 4th, at 8pm EST.

FEATURING:
COSPLAY PROM
MUSIC FESTIVAL
BLACKFINITY GAUNTLET (POC CONTENT CREATION NETWORKING SUMMIT)
GAMING TOURNAMENTS (VIDEO GAME, CARD GAMES, & TABLETOP GAMES)
COSPLAY CONTEST (PRIZE: NEXT YEAR'S COSPLAY GUEST OF HONOR)
18+ AFTER PARTY (CONCERT & BURLESQUE SHOW)
RAFFLE TO BE A CONVENTION GUEST OF HONOR (HOTEL & GUEST PASSES AWARDED)
GUESTS INCLUDE:
GREG HOUSER (VOICE ACTOR)
ROXANNE WHITNEY (VOICE ACTOR)
LES PRICE (VOICE ACTOR)
BRIAN WATTS (VOICE ACTOR)
HYBRID THOUGHTS (ANIME SOUNDTRACK ARTISTS)
WILLIAM A. KNIGHT (UFC FIGHTER/MUAY THAI FIGHTER)
HEAD NERDS IN CHARGE (WEB SHOW)
THE STARTING 5 PODCAST (PODCAST
CRAZY8THEGREAT (HIP-HOP NERDCORE ARTIST)
OTAKU ONGAKU (ANIME COVER BAND)
GR3YSON (HIP-HOP NERDCORE ARTIST)
HEROES4HIRE (HIP-HOP NERDCORE ARTISTS)
HAJJIOKA CORPORATION (NERDCORE ARTISTS)
JACKIE K. (ACTOR)
ERIC COOPER (AUTHOR)
CHRISTIAN ESPIRITUSANTO (COMIC BOOK ARTIST)
ERIC "THE SMOKE" MORAN
ADYA COSPLAY
BROWNELEGZ COSPLAY
HELLSPAWNED COSPLAY
OUTLAW2LK
CORSETSANDCLOVER COSPLAY
BWILDD COSPLAY
RITSUKO
LADY J
THE REAL PRINCE OF ALL SAIYANS
AND MORE!!!!
VENDOR PURCHASE DETAILS: This provides you with a 6ft TABLE, (2) CHAIRS, and (2) WEEKEND VENDOR PASSES or a 10×10 AREA, 6ft TABLE, (3) CHAIRS, and (3) WEEKEND VENDOR PASSES. Electricity is NOT guaranteed. If you need additional passes for your team, you will have to purchase them separately.
PLEASE NOTE: Load-In is Friday, November 4th, 2022. Later that night feel free to enjoy the Cosplay Prom, and other Friday festivities. It's FREE.
Hosted by J1 Studios (creators of Super Bounty J1, Lime Rind: The Rogue Samurai, Silver, Xeo-Nexus, Angel Savior, and the J1 Video Game Music Remix albums), this is a convention held BY FANS, FOR FANS.
FOR ATTENDEE TICKET PURCHASES, CLICK HERE: https://www.eventbrite.com/e/j1-con-animation-gaming-expo-2022-tickets-tickets-325362446837
Go to http://j1con.com for more details.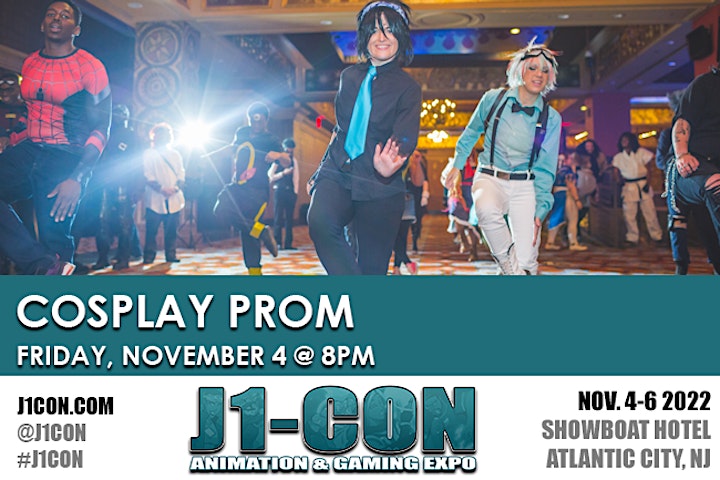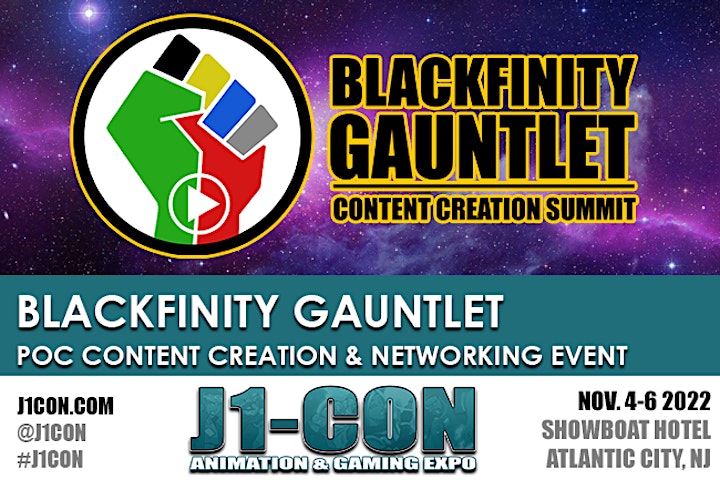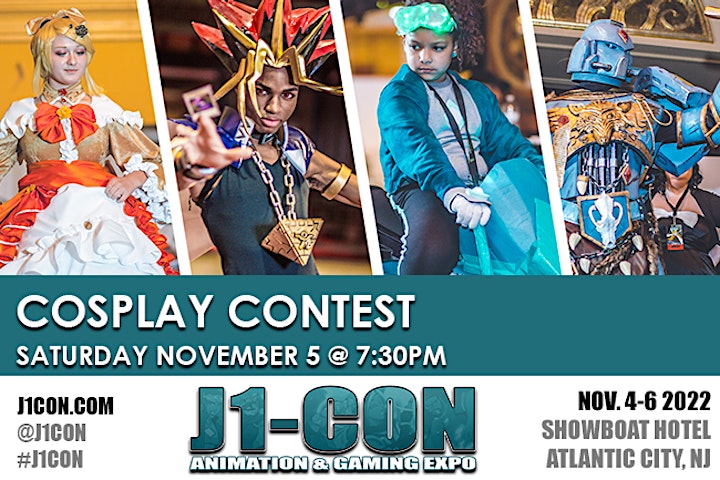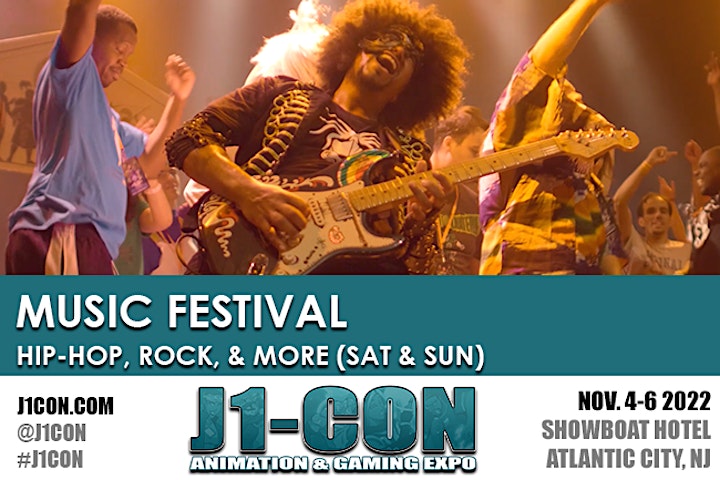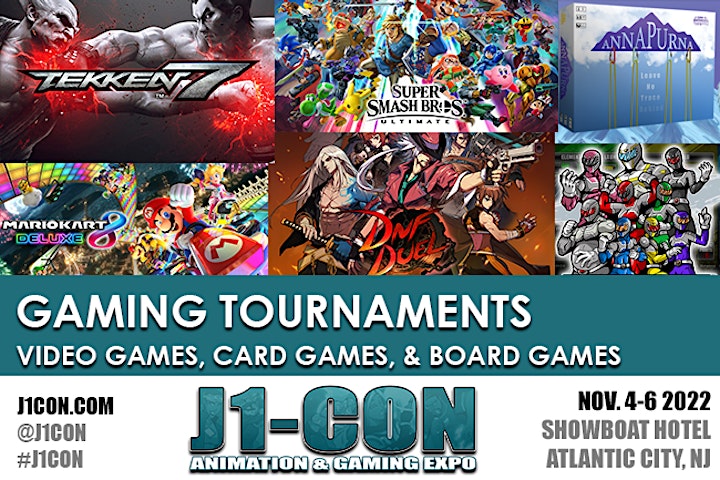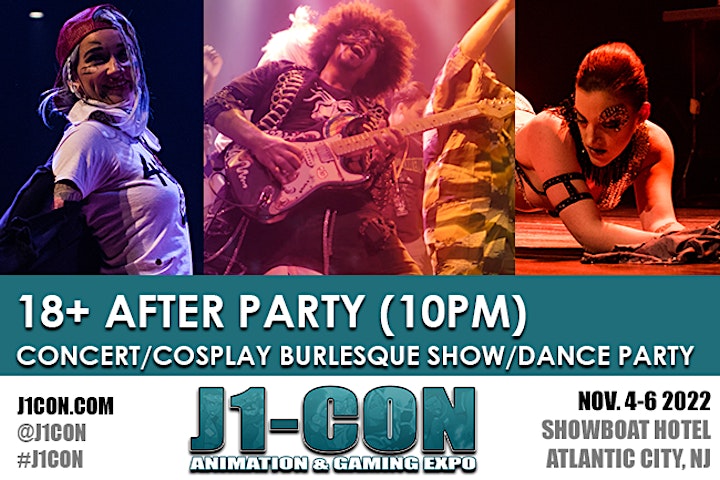 more
Time

4 (Friday) 7:00 pm - 6 (Sunday) 7:00 pm
Location

Showboat Hotel

801 Boardwalk, Atlantic City, NJ 08401