Free Monster/Horror Art Expo: Lakewood CO
27oct(oct 27)5:00 pm29(oct 29)6:00 pmFree Monster/Horror Art Expo: Lakewood COAmazing Art Expo, 747 Sheridan Blvd Unit 8C, Lakewood, CO 80214
Event Details

Monster/Horror Art Show: 3 Days Only
Address: 747 Sheridan Blvd Suite #8C, Lakewood, CO 80214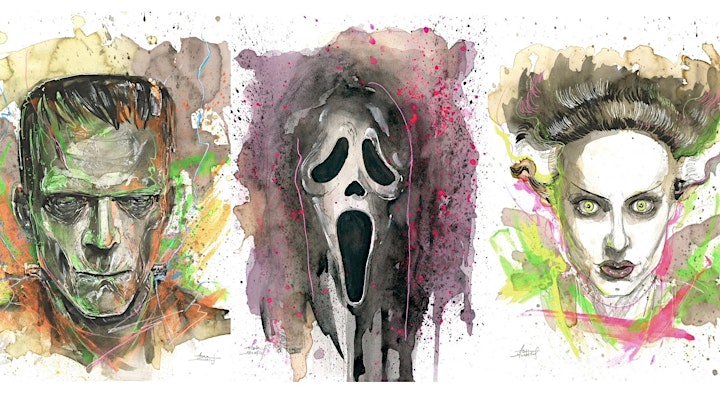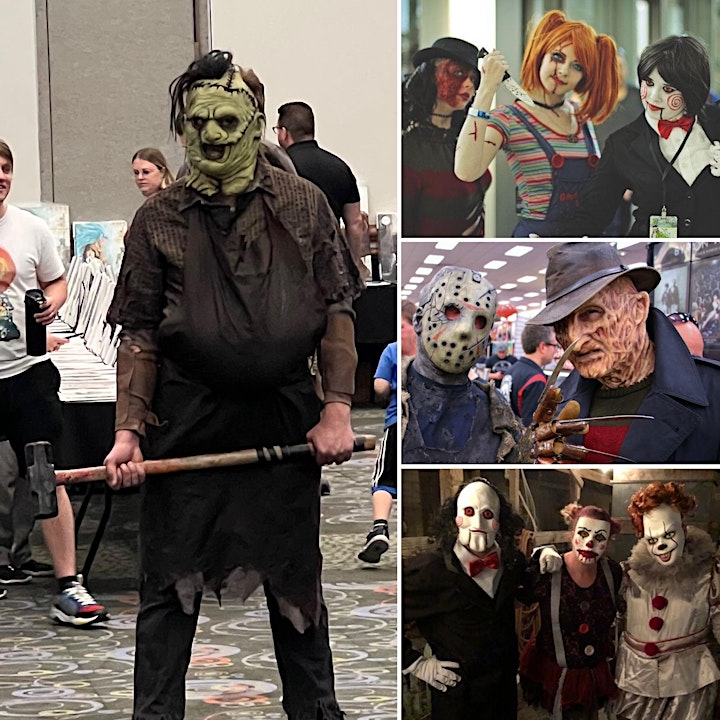 HALLOWEEN WEEKEND: Friday Oct 27th: 5-9 pm. Saturday & Sunday Oct 28-29th noon to 6 pm.
OPEN BAR! Featuring complimentary Wine, Beer, Beverages & Halloween candy (not the cheap stuff) & no purchase necessary.
FREE 9″x11″ Print by Tagging someone on Instagram or SHARING this event on your Facebook Timeline: CLICK HERE for Facebook Event to Share.
COOL MUSIC!
COSPLAY is encouraged & you get another free print too.
Event is kid friendly.
RSVP NOW by registering for your FREE tickets. Tickets are good for all 3 days.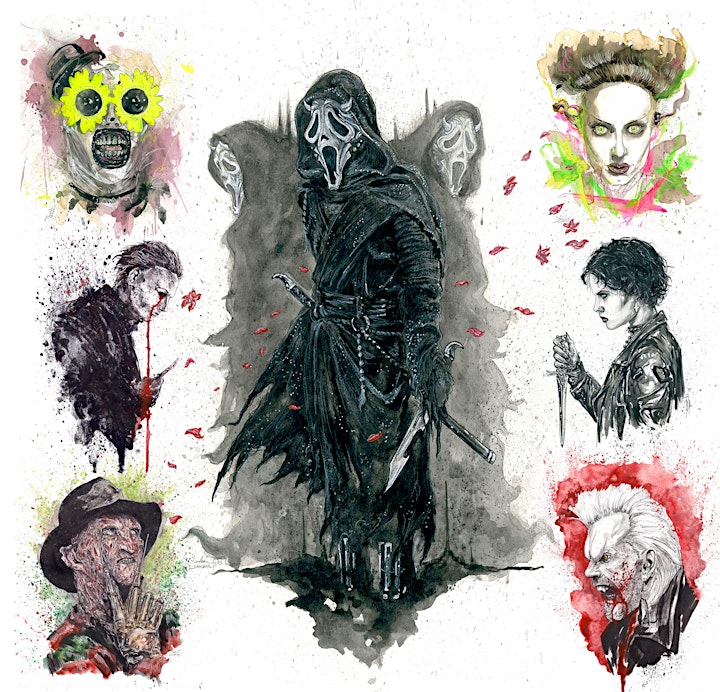 Also Featuring the Art of:
DISNEY
ANIME
HARRY POTTER
STAR WARS
MARVEL
DC COMICS
LORD OF THE RINGS
PARODY
DRAGONS & FANTASY
There will be multiple exhibits of Monster, Horror, Disney, Harry Potter, Marvel, DC Comics, Anime, Star Wars and parody art on display featuring a variety of artists and available to purchase at affordable pricing along with Show Specials. Original oil on canvas paintings will also be available for purchase.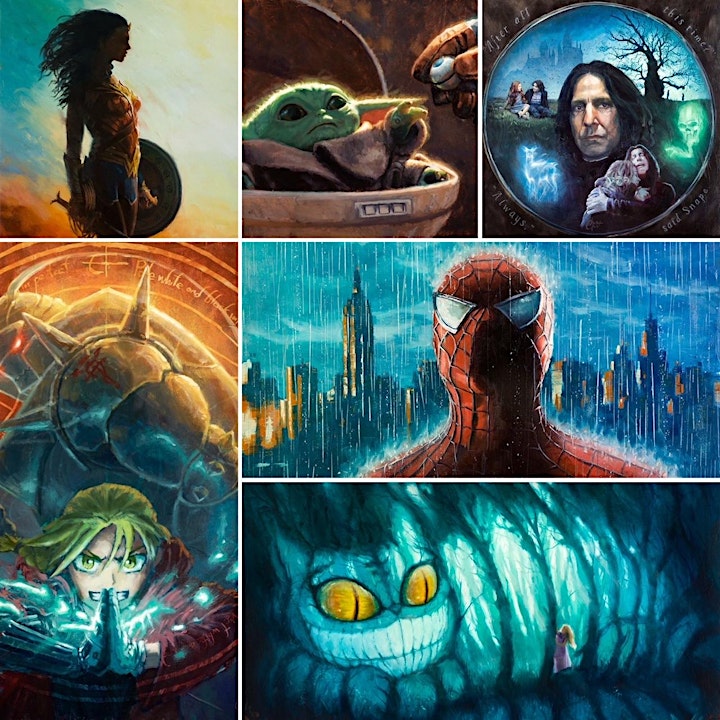 Cosplayers, monsters, princesses, princes, superheroes, Jedi, witches, wizards and even muggles of all ages are welcome to attend. And Yes, tickets are free, beer, wine and beverages are free and so is the candy…so stop asking!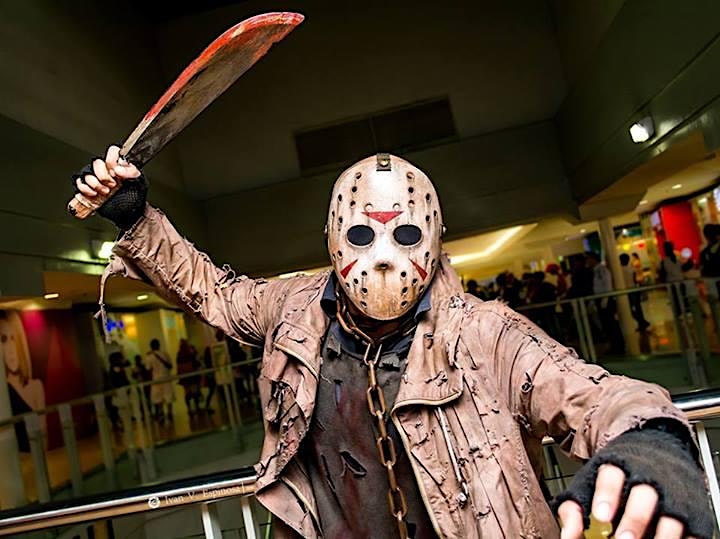 ALSO INTRODUCING THE COMEDIC PARODY ART OF BUCKET! ABOUT ARTIST "BUCKET" Despite being bred as a stormtrooper, Bucket refuses to identify as a "Clone" and prefers to be labeled a scoundrel painter who enjoys long walks on the beach and glutenous pastry products. Visit iamparodyart.com and CLICK HERE to watch a short video message from Bucket.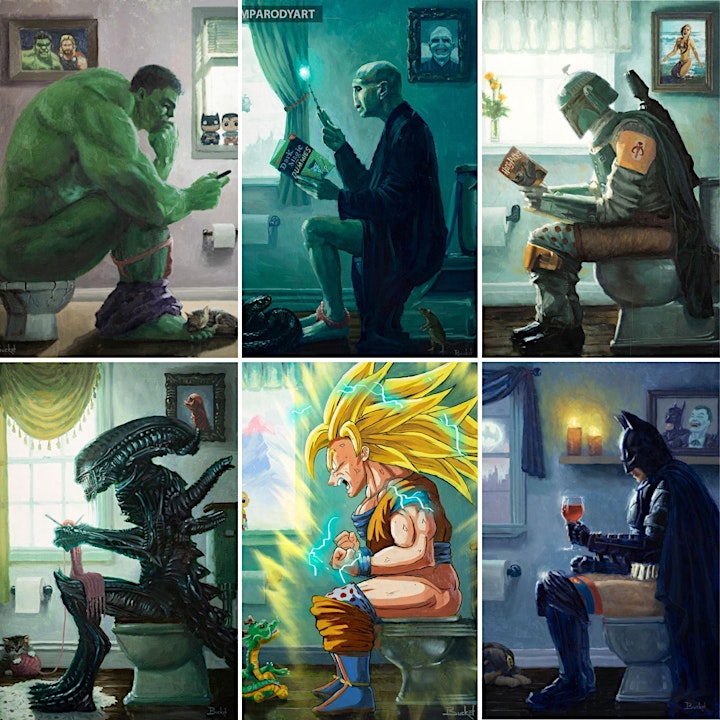 HOW DO I GET MY FREE PRINT? Tag a friend on Instagram or SHARE the event on your Facebook timeline or Instagram pg by October 27th. When you check in at the event, simply use your phone to show us you shared the event & you will be given your choice of a free print. Limit 1 Free Print per individual who shared Event. Artists will not sign free prints. Click Here to share the event on Facebook.
ADDRESS & PARKING DETAILS? Event is located in our warehouse district at 747 Sheridan Blvd #8C, Lakewood, CO 80214. There is plenty of parking both in the parking lot and on West 8th Avenue off Sheridan Blvd.
LIGHTRAIL DETAILS: Take the W Line to the Sheridan Station located at 1198 Sheridan Blvd (only 2 blocks north of the venue).
ARE KIDS WELCOME? This event is 100% Kid & Stroller Friendly!
ARE COSPLAYERS ALLOWED? All cosplayers are encouraged to attend with the expectation that they will pose for photos with guests at no charge. Cosplayers will automatically be given a free print and extra candy:)
DO WE HAVE TO MAKE A PURCHASE IN ORDER TO
I HAVE ANOTHER QUESTION. HOW MAY I CONTACT YOU? Please email our event coordinator at john@amazingartexpo.com with any further questions.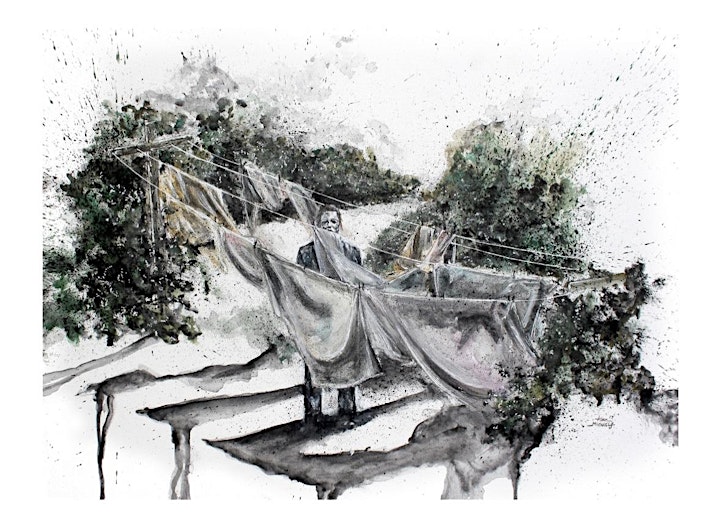 more
Time

27 (Friday) 5:00 pm - 29 (Sunday) 6:00 pm
Location

Amazing Art Expo

747 Sheridan Blvd Unit 8C, Lakewood, CO 80214