Esports Networking Mixer
16nov7:00 pm11:00 pmEsports Networking MixerBrookLAN, 339 Troutman Street, Brooklyn, NY 11237
Event Details

Meet and mingle with esports industry professionals while gaming all night long!
🔗 Connect with other esports industry professionals
💥 Game all night, grab some grub, and enjoy cocktails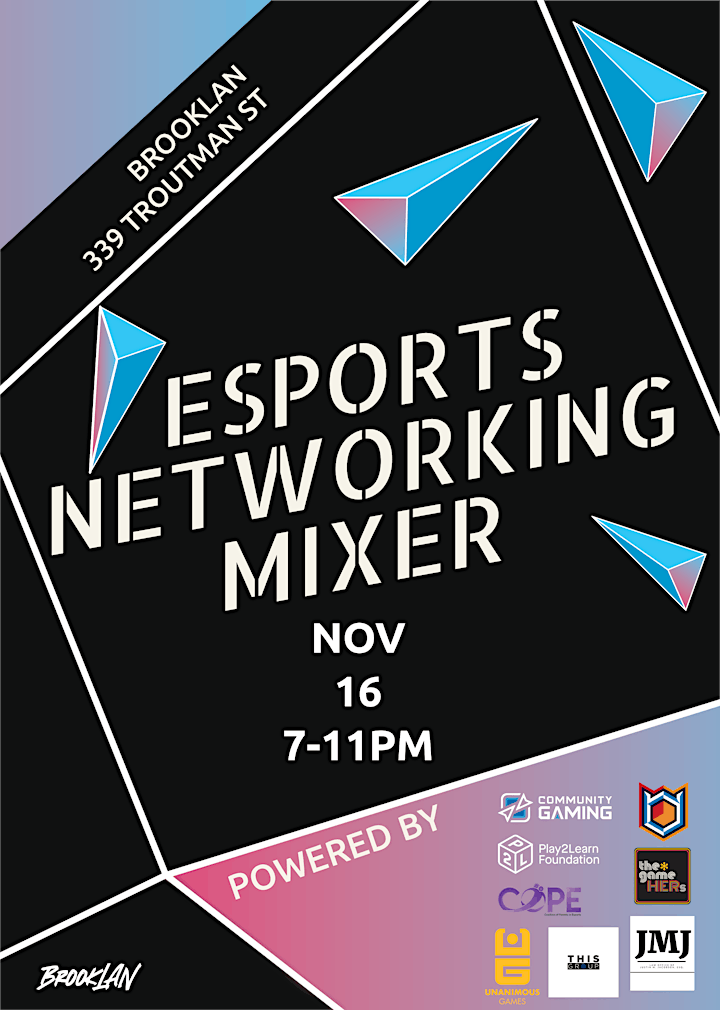 🎮 Meet with industry professionals in our Esports Networking Mixer. Whether you're an experienced veteran or just starting off your career, learn and talk with others about everything that interests you about your career. Ease off the night with gaming included all night long! Possibly meet a business partner and face off in Smash Bros all in the same sitting!
THANK YOU TO OUR SPONSORS
the*gameHERs: the*gameHERs is the largest collective of gamers with a woman's perspective in the world, with a network hub including the*gameHERs App; metaverse platform Zepeto, Discord, Twitch, socials, and IRL/URL events.
COPE: The Coalition of Parents in Esports empowers parents to leverage gaming and w3 to build youth confidence, curiosity, community, & careers, and unites together to show a different view of gaming today.
JMJ: Justin M. Jacobson, Esq. is an entertainment, esports and video game attorney in NYC, specializing in copyright, trademark, business and immigration matters for industry professionals.
Community Gaming: Community Gaming is the all-in-one platform offering esports infrastructure to all, equipping players, organizers, and game developers with the tools they need to simply create, facilitate, and participate in esports tournaments.
Play2Learn Foundation: Play2Learn Foundation provides gamers and entrepreneurs with inspiration, education, and resources they need to navigate the emerging web3 landscape by promoting financial inclusion and technological literacy.
HIVE: ​Hive has been Bridging the gap between the esports gaming industry and the entertainment world. When not competing at high-level esports tournaments. Hive sets up real-time video game competitions between professional athletes, celebrities, kids, and troops serving worldwide via gaming.
THIS Group: THIS Group LLC is a collective of managers that have come together to bring the idea of good business back to business. THIS is an acronym for Trust Honesty Integrity Success.
Unanimous Games: Unanimous Games is a full service esports company bridging the gap between the esports industry and the entertainment world. They aim to give an amplified voice to an underrepresented community of gaming enthusiasts (casual & extreme)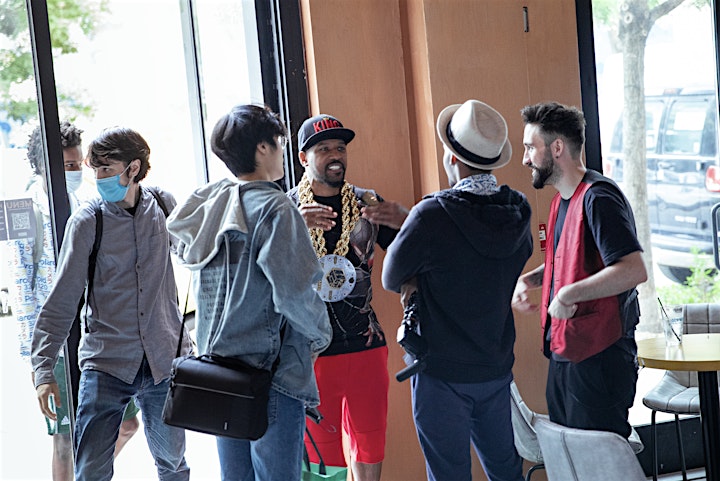 About BrookLAN

BrookLAN is New York's largest home for all things video games, esports & tabletop. Equipped with a full kitchen, bar, and arena. Located off the L train in Brooklyn – 339 Troutman St, Brooklyn, NY, 11237
More info can be found @ www.brooklan.com
Got a burning question that needs answering? Give us at a call at 607-424-2025 or email us at info@brooklan.com
more
Time

(Wednesday) 7:00 pm - 11:00 pm
Location

BrookLAN

339 Troutman Street, Brooklyn, NY 11237